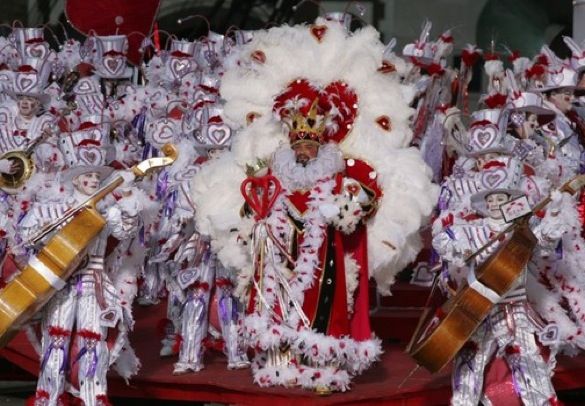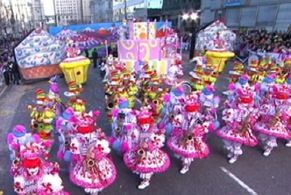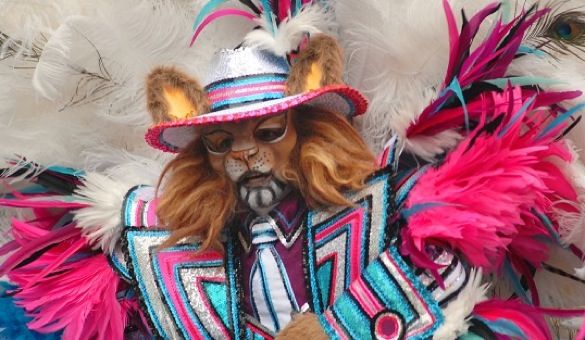 If it is New Year's Day in this neck of the woods, it is time for the the Philadelphia Mummers New Years Day Parade! After all, where else could you get the light, the flash, the colors and the music, all combined into one of the best holiday celebrations anyone could find! For those of you who have never seen the Mummers in action, I thought I would share with you just a small part of the parade, the Top 3 award winners from the 2013 String Band competition. The first look will be the Woodland String Band, who finished the day in 3rd place. They had a great theme of medieval warriors from a castle, wearing, of course, plenty of feathers, satin, and sequins!
When the marks of the judges were tallied, Quaker City String Band finished in 2nd place. They adopted the theme of celebrating Native Americans, with the glamorous addition of feathers, sequins, satin, and banjos! With a scene awash with orange, yellow, and green, the Quaker City String were a sight to see.
Finally, the winner of the String Band competition last year was the very talented Fralinger String Band. Using metalic coffins, vampires, skeletons, and Frankenstein monsters, the colors were black and white, and everything in between to create a beautifully woven tapestry that enticed and intoxicated.
Happy New Year, Philadelphia style! To learn more about the Philadelphia Mummers Near Years Day Parade, visit their
official website
. For a live stream of the parade online, visit
PHL17
.